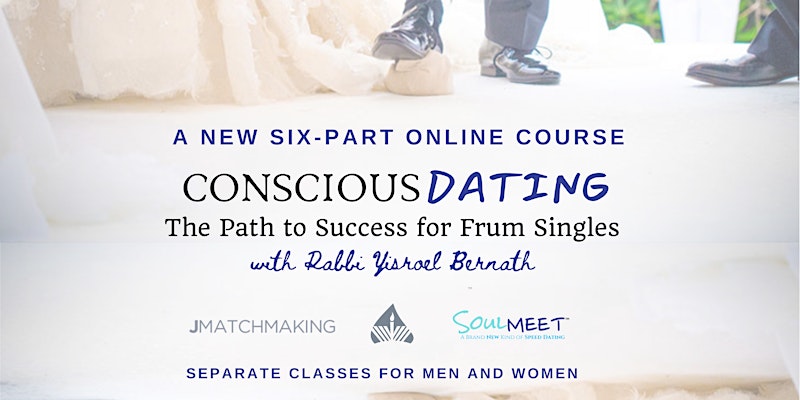 The Path to Success for Frum Singles
Conscious Dating with Rabbi Yisroel Bernath: The Path to Success for Frum Singles
You've heard those amazing miracle stories. You know the ones I'm talking about... "He was the first person I dated, somebody just suggested it. Everything clicked, and two months later we were married!"
You probably also know that it doesn't work out like that for everyone. In fact, just a small (but memorable!) minority are so lucky. Yes, some people just naturally figure out their shidduch, or the right one falls into their lap out of the blue. But that's not most of us, and perhaps that's not you. 
And that's OK! Maybe you need to work at it – follow a process. I have a name for it: I call it "Conscious Dating".
So if any of these applies to you...
You haven't started dating yet, or you've just gone out a few times, but you don't feel 100% confident.
You're not sure exactly who you're looking for, or how to go about it.
You've had to struggle through the parsha, perhaps for longer than you thought. 
You need to make the biggest decision of your life, and there's not very much help!
...then Conscious Dating is for you.
I've spent the past 15 years of my life working with every type of dater: as a coach, shadchan, shliach, founder of an online matchmaking service, and more. I've noticed a pattern in successful shidduch stories – this system I'd like to share with you.
To make that happen, I've taken my experience, knowledge, and philosophy, and packed it into these six (6) sessions. My goal is to make you conscious of how to effectively search for and date a life partner, as well as give you the vocabulary to articulate your experiences so that you can consciously move towards your future.
I believe that Conscious Dating will provide a clear path forward for not just you, but the entire dating system. I've tested the ideas with numerous singles and shadchanim, and the results have been transformative. Now is your chance to experience the same.
Course Syllabus
(All sessions followed by a Q&A, of course...)
Session 1: My Core Dating Philosophies (+ Ground Rules, if you need them)
Session 2: A Shidduch's First Stage: Personality & Attraction
Session 3: A Shidduch's Second Stage: Values, Qualities & Your Marriage Purpose
Session 4: A Shidduch's Final Stage: Emotions, Vulnerability & How the Magic Happens
Session 5: Troubleshooting: Everything That Could Go Wrong
Session 6: Bringing Down the Brachah: Tried, Tested & True Techniques